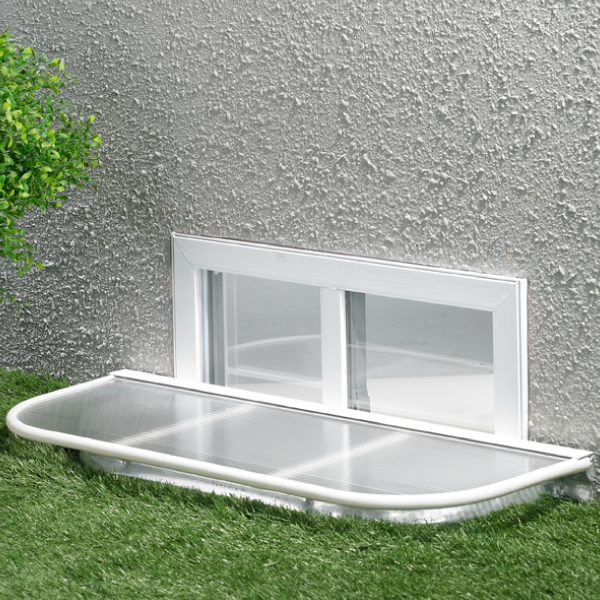 Conquest Steel Custom Window Well Covers allow light to enter into basement windows, provide protection from backfill, and are key to protecting your basement from leaks.
---
HOW TO ORDER YOUR CUSTOM WINDOW WELL
You can download and fill out our Custom Window Well Cover Order Form to request a quote and place your order. Forms can be emailed to info@conqueststeel.com.
Instructions to determine the required size for your custom window well covers can be found below.
SIZING YOUR CUSTOM WINDOW WELL CORRECTLY
Take the following four measurements of your window well to ensure you select the best fitting cover. Covers are designed to be 2" larger than your window well. Custom covers are available if your well does not match with a stock sized cover.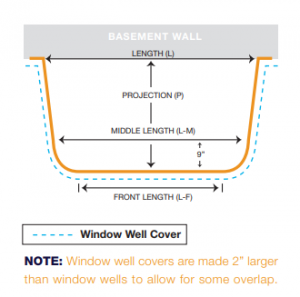 Length (L):
The opening of your window well where it is connected to the house. Measure from outside edge to outside edge, but do not include the attachment flanges.
Projection (P):
The distance from the basement wall to outside of the window well. Measure at the middle of the window well.
Front Length (LF):
The length of the flat section between the two corners at the front of the window well. Do not included the radius of the corners. For square window wells this dimension will be the same as the Length.
Middle Length (MF):
The opening of the window well measured 9" back from the front edge of the well. Not required for square window wells.
Custom Window Well Covers are by order only. Please contact us to order or to learn more.
Stock-sized Conquest Steel Window Well Covers start from $49 and are in stock at building centers, hardware stores and landscaping yards across Canada.
You can also click here to find a Rona Store near you with stock of window wells covers, or inquire at your local Timber Mart, Federated Co-Op or BMR store about placing a special order.