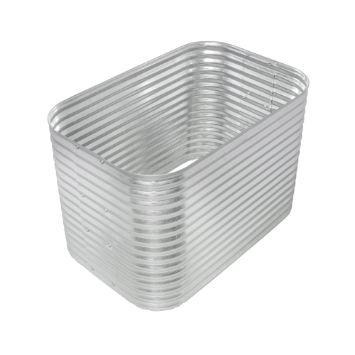 Raised Garden Beds make gardening accessible and are great for vegetables and flowers with deep roots. They are a perfect addition to any yard, rooftop or patio.
View our Raised Garden Beds Picture Gallery below to see great possible uses of Conquest Steel Raised Garden Beds!
More information is available at RaisedGardenBeds.ca
Reliable
Our raised garden beds will not rust, rot, or split
Safe
Our steel beds are non-toxic and non-leaching
Accessible
Available in heights up to 36″, promoting accessibility
Simple + ready to use
Steel beds come 2 or 4 easy-to-assemble pieces
Environmentally friendly
Made from recycled material and are environmentally friendly
Environmentally responsible
Reduce your carbon footprint by growing at home
---
There are many sizes available, you can choose one or more to fit the space you have.
Our garden beds are available in 12″, 22″, 30″, and 36″ heights.
All you need to install your Raised Garden Bed is a screwdriver.
Once your chosen ground is level, simply connect the sections of your raised bed using the wing nuts and screws provided, then tighten with a screw driver. The entire process takes only a few minutes.
Frequently Asked Questions
Conquest Steel Raised Garden Beds are better priced than cedar and plastic alternatives.
Raised Garden Beds are available for purchase online at RaisedGardenBeds.ca. They are also available at building centers and landscaping yards across Canada.
Please Contact Us to find a retail location near you.